The UK Open University COVID Response: A Sector Case Study
Keywords:
open education, coronavirus, online education, educational technology
Abstract
During the coronavirus pandemic, nearly all forms of education underwent an online pivot, to some form of internet-based instruction. The UK Open University (UKOU), like many other distance education and online universities, found its expertise in designing and delivering effective online teaching in demand. This paper reports how the UKOU responded to this demand through a range of mechanisms in three main areas: curriculum, research, and outreach. The different responses in these areas are categorised to highlight six main requirements from the sector: Support, Understanding, Knowledge Sharing, Replacement, Resources and Capacity Building. Using these as a model, the discussion argues that they represent responses that could be undertaken at global, national, and regional levels to develop a more resilient and robust higher education sector that would be better equipped to cope with future disruptions.
References
Aristeidou, M., & Cross, S. (2021). Disrupted distance learning: The impact of COVID-19 on study habits of distance learning university students. Open Learning: The Journal of Open, Distance and e-Learning, 36(3) pp. 263–282. DOI: https://doi.org/10.1080/02680513.2021.1973400
Aristeidou, M., & Cross, S. (in press). Research disruption and PhD mental health: Implications for research and university policy
Bekova, S.K., Terentev, E.A., & Maloshonok, N.G. (2021). Educational inequality and COVID 19 pandemic: Relationship between the family socio-economic status and student experience of remote learning. Вопросы образования, (1 (eng)), 74-92.
Flack, C.B., Walker, L., Bickerstaff, A., Earle, H., & Margetts, C. (2020). Educator perspectives on the impact of COVID-19 on teaching and learning in Australia and New Zealand. Melbourne, Australia: Pivot Professional Learning. https://pivotpl.com/wp-content/uploads/2020/04/Pivot_StateofEducation_2020_White-Paper-1.pdf
LaRosa J., Doran C., Guth A., Varshney, K., Anaele, B., Davis, K., DiDonato, S., Romney, M., Keddem, S., & Frasso, R. (2022). Life during COVID-19: The student experience. Pedagogy in Health Promotion. 8(2):126-133. https://doi.org/10.1177/23733799211017562
Leiner, B., Cerf, V.G., Clark, D., Kahn, R., Kleinrock, L., Lynch, D., Postel, J., Roberts, L., & Wolff, S. (1997). Brief history of the internet. The Internet Society https://www.internetsociety.org/internet/history-internet/brief-history-internet/
Martin, L. (2020). Foundations for Good Practice: The Student Experience of Online Learning in Australian Higher Education During the COVID-19 Pandemic. Australian Government Tertiary Education Quality and Standards Agency.
Naughton, J. (1999). A brief history of the future: Origins of the internet. Weidenfeld & Nicolson
OpenLearn (2021). OpenLearn Annual Report 2020/2021. https://www.open.edu/openlearn/pluginfile.php/3278790/tool_ocwmanage/article/1/openlearn_2020-21_annual_report.pdf
Power, T., Buckler, A., Ebubedike, M., Tengenesha, M., Jama, M., Ndlovu, A., Mukoyi, J., Ndou, M., & Mubaira, S. (2021). Community Help for Inclusive Learning and Development (CHILD): A Study of How Mobile Phones Were Used to Recruit and Equip Community Volunteers to Support Children's Learning During Covid-19 School Closures in Zimbabwe. The EdTech Hub, London. http://oro.open.ac.uk/75468/2/Community%20Help%20for%20Inclusive%20Learning%20and%20Development_Final.pdf
Weller, M. (2020, March 9). The COVID-19 online pivot. http://blog.edtechie.net/higher-ed/the-covid-19-online-pivot/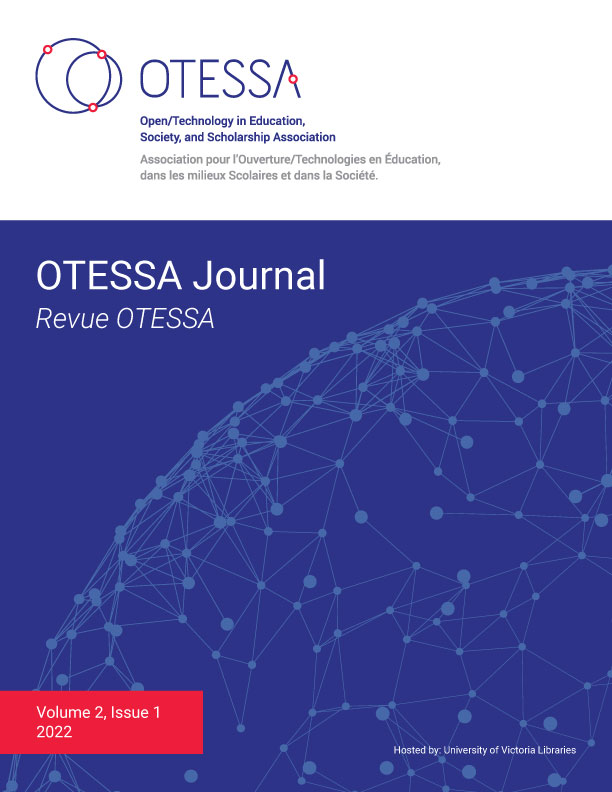 Downloads
How to Cite
Weller, M. (2022). The UK Open University COVID Response: A Sector Case Study. The Open/Technology in Education, Society, and Scholarship Association Journal, 2(1), 1–13. https://doi.org/10.18357/otessaj.2022.2.1.35
Section
Practice Articles
License
Copyright (c) 2022 Martin Weller
This work is licensed under a Creative Commons Attribution 4.0 International License.
Authors contributing to the OTESSA Journal agree to release their articles under the Creative Commons Attribution 4.0 International (CC BY 4.0) license. This licence allows this work to be copied, distributed, remixed, transformed, and built upon for any purpose provided that appropriate attribution is given, a link is provided to the license, and changes made were indicated.
Authors retain copyright of their work and grant the OTESSA Journal right of first publication.
Authors are able to enter into separate, additional contractual arrangements for the non-exclusive distribution of the published version of the work (e.g., post it to an institutional repository or publish it in a book), with an acknowledgement of its initial publication in the OTESSA Journal.