Planning, Implementing, and Assessing an OER Faculty Learning Community: A Facilitator's Lens
Keywords:
open educational resources, OER, faculty learning community, community of practice
Abstract
A librarian-led Faculty Learning Community (FLC) focused on Open Educational Resources (OER) can be a practical, low risk way to sustain campus-based OER programs during and after initial start-up. Creating a space for sharing teaching successes and challenges is an important goal in the iterative journey toward open. The experiences and trust fostered in an FLC can help grow awareness of and commitment to adopting, deepening, and expanding a culture of openness. FLCs provide an opportunity to lean into open that enhances cross-campus relationships, identifies gaps, and emphasizes collegiality while moving toward enriched teaching and learning. They provide a launching point for sharing pedagogical practice, and a valuable venue for new ideas. Key strategies for planning, implementing, and assessing a multidisciplinary OER faculty learning community are highlighted. Practical advice is emphasized to support successful outcomes that can be easily replicated. Ten top takeaways are summarized from a year spent facilitating an OER FLC in a four-year, public, comprehensive college that included the shift to online courses during the COVID-19 pandemic, and it concludes with suggested next steps for continuing the OER conversation among faculty, students, librarians, instructional designers, teaching and learning center staff, administration, and other stakeholders.
References
Association of College & Research Libraries. (2015). Framework for Information Literacy for Higher Education. http://www.ala.org/acrl/standards/ilframework
Bazeley, J., Haynes, C., Myers, C., & Resnis, E. (2019). Avoiding the "Axe": Advancing affordable and open education resources at a midsize university. Journal of Librarianship and Scholarly Communication, 7, eP2259. https://doi.org/10.7710/2162-3309.2259
Bazeley, J., Waller, J., & Resnis, E. (2014). Engaging faculty in scholarly communication change: A learning community approach. Journal of Librarianship and Scholarly Communication, 2(3), eP1129. https://doi.org/10.7710/2162-3309.1129
BC Open Ed. (2019). https://open.bccampus.ca
Belikov, O., & Bodily, R. (2016). Incentives and barriers to OER adoption: A qualitative analysis of faculty perceptions. Open Praxis, 8(3), 235–246. https://dx.doi.org/10.5944/openpraxis.8.3.308
Boise State University IDEA Shop. (2018). Call for applications: Faculty learning community for open educational resources (S2019). https://www.boisestate.edu/ctl-idea/2019-faculty-learning-communities-flc/cfa-flc-oer-s2019
Burress, T., Mann, E., & Neville, T. (2020). Exploring data literacy via a librarian-faculty learning community: A case study. The Journal of Academic Librarianship, 46(1), 102076. https://doi.org/10.1016/j.acalib.2019.102076
Clements, K., Pawlowski, J., & Manouselis, N. (2015). Open educational resources repositories literature review: Towards a comprehensive quality approaches framework. Computers in Human Behavior, 51, 1098–1106. https://doi.org/10.1016/j.chb.2015.03.026
Clifton, A., DeFranco, T., & Daly, M. (2020). Case studies: State University of New York. In S. Hare, J., Kirschner, & M. Reed (Eds.), Marking Open and Affordable Courses: Best Practices and Case Studies. U. of T. Arlington Libraries. https://uta.pressbooks.pub/markingopenandaffordablecourses
Colvard, N.B., Watson, C.E., & Park, H. (2018). The impact of open educational resources on various student success metrics. The International Journal of Teaching and Learning in Higher Education, 30(2), 262-276. http://www.isetl.org/ijtlhe/pdf/IJTLHE3386.pdf
Cox, M. D. (2001). Faculty learning communities: Change agents for transforming institutions into learning organizations. To Improve the Academy, 19(1), 69-93. https://doi.org/10.1002/j.2334-4822.2001.tb00525.x
Cox, M. D. (2004). Introduction to faculty learning communities. In M.D. Cox & L. Richlin (Eds.), Building Faculty Learning Communities, New Directions for Teaching and Learning: No. 97, Jossey-Bass. pp. 5-23.
Cox, M. D. (2009), Faculty learning community goals inventory. In Faculty Learning Community Program Director's and Facilitator's Handbook, Miami University. (p. 231-233).
Creative Commons. (n.d.). Open Education. https://creativecommons.org/about/program-areas/education-oer
Early, J., & Holton, V. (2016). Are Your Findings "Finding" Their Way to the Community? A Faculty Learning Community Approach to Broad Dissemination. VCU Scholars Compass. https://scholarscompass.vcu.edu/community_resources/54
Einbinder, S. (2018). A process and outcome evaluation of a one-semester faculty learning community: How universities can help faculty implement high impact practices. InSight: A Journal of Scholarly Teaching, 13(1), 40–58. https://doi.org/10.46504/14201803ei
Faculty Learning Communities. (n.d.). Center for Teaching Excellence. Miami University. http://miamioh.edu/cte/faculty-staff/flcs
Grand Valley State University. (2019). Past Faculty Learning Communities (2018-2019). https://www.gvsu.edu/ftlc/past-faculty-learning-communities-2018-2019-310.htm#19W_O3FLC
Hill, D. J. (2019). Students find empowerment in creating their own textbook. UB Now. http://www.buffalo.edu/ubnow/stories/2019/02/kruger-students-textbook.html
Hilton, J. (2020). Open educational resources, student efficacy, and user perceptions: A synthesis of research published between 2015 and 2018. Educational Technology Research and Development, 68, 853–876. https://doi.org/10.1007/s11423-019-09700-4
Jhangiani, R. (2019). 5Rs for Open Pedagogy. https://thatpsychprof.com/5rs-for-open-pedagogy
Little, J.J., Fallon, M., Dauenhauer, J., Balzano, B., & Halquist, D. (2010). Interdisciplinary collaboration: A faculty learning community creates a comprehensive LibGuide. Reference Services Review, 38(3), 431-444. https://doi.org/10.1108/00907321011070919
Lumen Learning. (2020). Lumen Learning acquires Faculty Guild's higher education assets. http://lumenlearning.com/announcements/announcement-2020-06-16-facultyguild
McCollough, A., Warren, J., & Harris, C. (2018). Identifying and Developing Open Educational Resources (OER) for your Class. Innovations in teaching and learning conference proceedings, 18, George Mason University. https://doi.org/10.13021/G8ITLCP.10.2018.2170
Metropolitan State University of Denver. (2019). New FLCs explore philosophy, resources. https://www.msudenver.edu/early-bird/2019/01/28-flcs.shtml
Mi, M. (2015). Expanding Librarian Roles through a Librarian Initiated and Facilitated Faculty Learning Community. Journal of Library Administration, 55(1), 24–40. https://doi.org/10.1080/01930826.2014.978683
Ortquist-Ahrens, L., & Torosyan, R. (2009). The role of the facilitator in faculty learning communities: Paving the way for growth, productivity and collegiality. Learning Communities Journal, 1(1), 1-34. https://digitalcommons.fairfield.edu/cae-facultypubs/3
Peer 2 Peer University (2015). Learning Circles Facilitator Handbook. https://www.p2pu.org/en/handbook
Pikula, K. (2018). Using OER learning circles as a support system for faculty to engage in open pedagogy in student/instructor authoring of OER textbooks and online courses. Minnesota Summit on Learning and Technology. https://ccaps.umn.edu/minnesota-summit-learning-and-technology/program/using-oer-learning-circles-support-system-faculty
Soodjinda, D., Parker, J. K., Ross, D. L., & Meyer, E. J. (2014). CSU digital ambassadors: An empowering and impactful faculty learning community. Journal of Digital Learning in Teacher Education, 31(1), 35–42. https://doi.org/10.1080/21532974.2015.979634
SPARC (n.d.) Open Education Leadership Fellows Program. https://sparcopen.org/our-work/open-education-leadership-program/2019-2020
SUNY OER Services. (2018). OER Community Course Experience. https://online.suny.edu/sunyoercommunitycourse
Timmermans, J. A., Bruni, C., Gorbet, R., Moffatt, B., Stubley, G., Williams, D., & Holmes, T. (2018). The flourishing of care in a multidisciplinary faculty learning community. International Journal for Academic Development, 23(4), 367–373. https://doi.org/10.1080/1360144X.2018.1521335
Tinnell, T. L., Ralston, P. A., Tretter, T. R., & Mills, M. E. (2019). Sustaining pedagogical change via faculty learning community. International Journal of STEM Education, 6(1), 1–16. https://doi.org/10.1186/s40594-019-0180
Wenger, E. (1998). Communities of practice: Learning, meaning and identity. Cambridge University Press.
Wiley, D. (n.d.) Defining the "Open" in Open Content and Open Educational Resources. http://opencontent.org/definition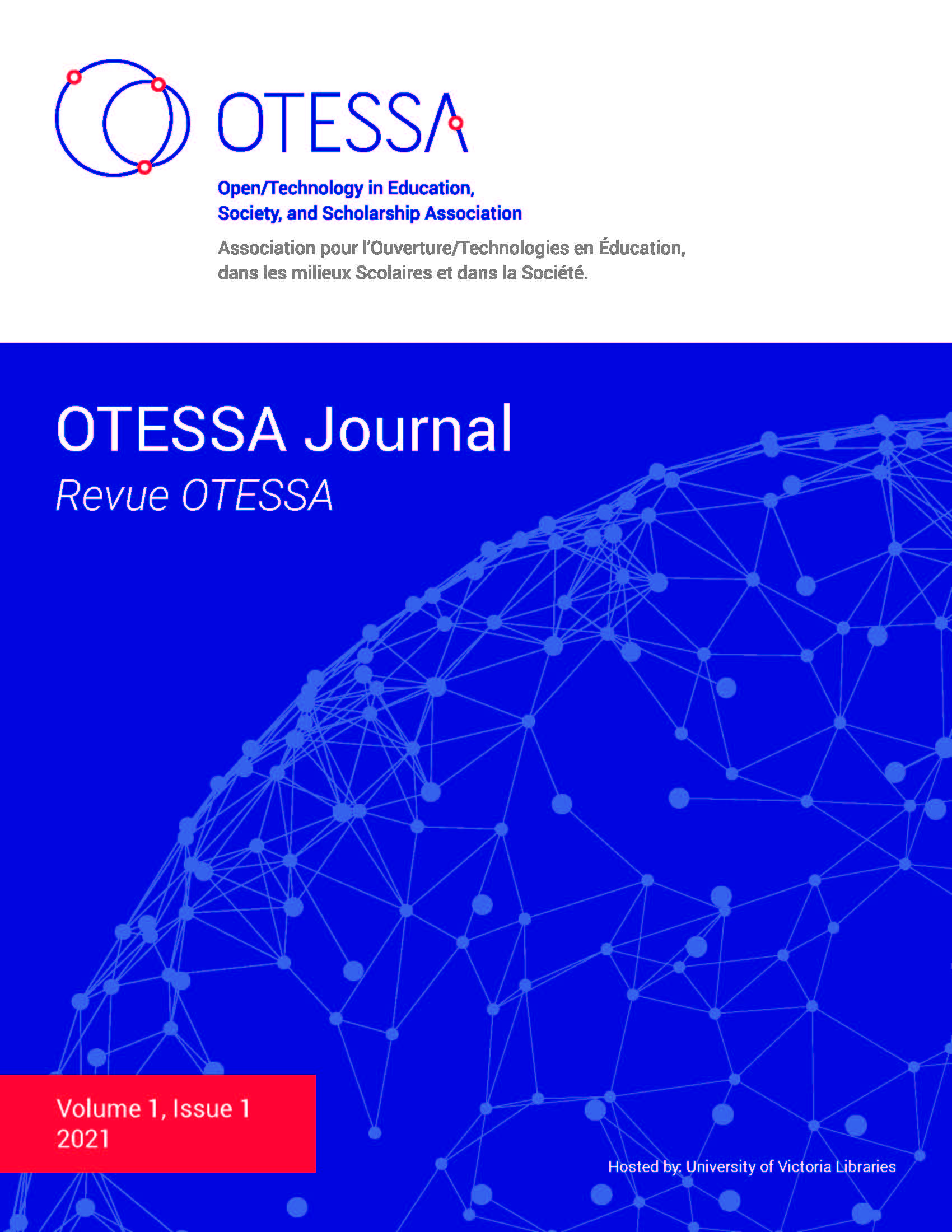 Downloads
How to Cite
Orzech, M. J. (2021). Planning, Implementing, and Assessing an OER Faculty Learning Community: A Facilitator's Lens. The Open/Technology in Education, Society, and Scholarship Association Journal, 1(1), 1–13. https://doi.org/10.18357/otessaj.2021.1.1.6
Section
Practice Articles
License
Copyright (c) 2021 Mary Jo Orzech
This work is licensed under a Creative Commons Attribution 4.0 International License.
Authors contributing to the OTESSA Journal agree to release their articles under the Creative Commons Attribution 4.0 International (CC BY 4.0) license. This licence allows this work to be copied, distributed, remixed, transformed, and built upon for any purpose provided that appropriate attribution is given, a link is provided to the license, and changes made were indicated.
Authors retain copyright of their work and grant the OTESSA Journal right of first publication.
Authors are able to enter into separate, additional contractual arrangements for the non-exclusive distribution of the published version of the work (e.g., post it to an institutional repository or publish it in a book), with an acknowledgement of its initial publication in the OTESSA Journal.